Fleetwood Acres started out as a vegetable farm in 1963. Blake & Laura Fleet had both been raised on a farm and enjoyed the country lifestyle. They grew a variety of vegetables and sold them at the Hamilton and Burlington Farmer's Markets.
Laura's other passion was baking, so she began making different types of breads, pies, and sweets to sell at the market. She built a reputation for selling good quality products with no preservatives.
Eventually the bakery became so busy that the farming end of the business was discontinued. In 1985, son Gary and his wife Nancy began working full-time at the bakery. In 1987, the bakery was moved from the farm to a large building on the North Service Rd. in Burlington.
With a larger building came larger equipment so the bakery was able to wholesale to stores and restaurants as well as retail at the Hamilton, Burlington, and Milton Farmer's Markets.
Gary and Nancy took over managing the business in 1987 and in 1998 the bakery was moved to it's present location on Centre Rd. just north of Carlisle. In 2007, the bakery opened a storefront on weekends so people could buy products fresh from the oven.
Today, the bakery still produces products for stores and restaurants during the week and on the weekends all the equipment is moved to make way for the store. The bakery store carries a variety of fresh and frozen baked goods as well as coffee , tea and soft drinks. Hot apple cider is also available in November and December .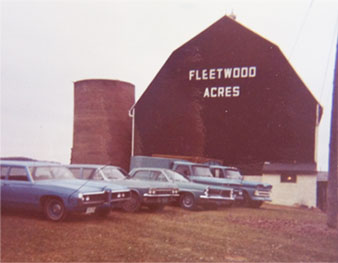 Bakery Store Hours
Fri. 10am - 6pm April till December
Sat. 9am - 5pm April till Christmas
Sun. 10am - 5pm April till Christmas