Banana Cookies are a special cookie that we have been making for the past 30 years. They are bursting with bananas, raisins and sunflower seeds which combine to give them their unique flavour.
The cookies have been featured in the Toronto Life Magazine and bicycle enthusiasts swear by them as a great energy food. The banana cookies are distributed to health food stores and farm markets throughout Southern Ontario. You can also purchase them at the bakery store, on weekends or online below.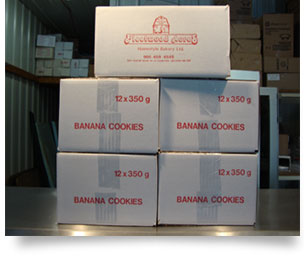 Purchase Banana Cookies Online
We now offer the option of purchasing our famous Banana Cookies directly from our website. Each case contains 12 packages, each package containing 6 cookies.
Please fill out the form below including the number of cases you would like and we will get back to you with the shipping costs and total price.
** For Wholesale Customers ** we now offer the option to purchase wholesale orders by logging in here. If you are a new Wholesale customer, please contact us for login credentials.