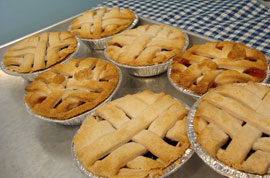 Fruit Pies
Nothing tastes better than a fruit pie fresh out of the oven. Our pies are made of quality fresh fruit from local farms. The pies have a flaky bottom crust and a hand woven lattice crust on top. Fruit Pies are available 3" and 8" sizes. Apple and Pumpkin pies are also available in 10" size.
The below varieties of fruit pies change as the fruit becomes available during the season.
Rhubarb
Strawberry
Strawberry Rhubarb
Cherry
Raspberry
Peach
Blueberry
Apple
Pumpkin
Raisin (Special order only)
Mincemeat (December only)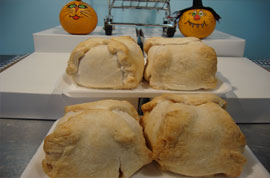 Apple Blossoms
Apple blossoms are peeled and cored apples covered in sugar and spices and then wrapped in a blanket of pastry. The blossoms are usually served warm and you can drizzle some of Fleetwood Acres delicious butterscotch sauce over them.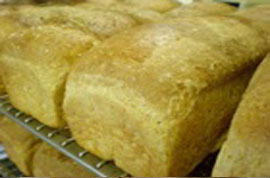 Breads & Buns
You can't beat the smell of fresh baked bread. Our breads are made from recipes that have been handed down for generations. We offer the following bread & bun varieties:
Breads

White
Wholewheat
12 Grain
Buns

Crusty Buns
Kaiser Buns
Hot Dog Buns
Cheese Buns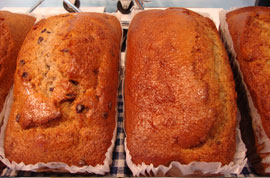 Loaf Cakes
At Fleetwood Acres we love making loaf cakes. On a busy day we could make up to 600 loaves to be shipped to stores and Farm Markets all across Southern Ontario.
Below are the different varieties of loaf cakes available:
Banana
Zucchini
Pumpkin
Strawberry
Banana Chocolate Chip
Cranberry Nut
Date & Nut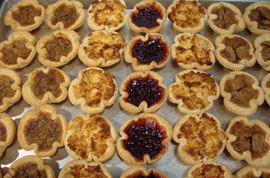 Tarts
Fleetwood Acres' tarts are made with the same flaky pastry that we use in our pies. The buttertart filling is made with butter and like all of our other recipes we use only fresh eggs.
Below are the different varieties of Tarts available:
Raisin Butter Tarts
Pecan Butter Tarts
Plain Butter Tarts
Raspberry Tarts
Raspberry Coconut Tarts
Mixed packages are also available. Tarts are sold in packages of six and can also be bought individually at the bakery store.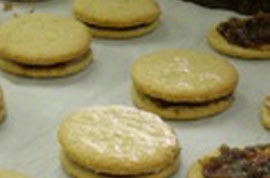 Cookies & Other Sweets
CHOCOLATE CHIP COOKIES - Tons of semi-sweet chocolate buried in this cookie just waiting for you.
CHOCOLATE CHIP ICE CREAM COOKIES - Vanilla ice cream sandwiched between two chocolate chip cookies. This is a great treat any time of year.
CHOCOLATE COCONUT MACAROONS - This is a conglomeration of chocolate, sugar and rolled oats that will help fix even the toughest day.
OLD FASHIONED CINNAMON & SUGAR DONUTS - Do you remember how donuts used to taste? Our donuts taste like donuts used to taste in the good old days!
SCONES - Light & Flaky, available in Plain, Raisin, or Cranberry.