Fleetwood Acres has built a reputation for making quality meat pies. Baker Gary has been making the pastry from scratch since 1985. The meat used is top grade Ontario Beef. The chickens used in the chicken pies are specially chosen for their flavour and their ability to make a delicious broth.
In 1988 and 1989 Fleetwood Acres meat pies were awarded the best of Ontario Markets at the Royal Winter Fair.
The meat pies come in three sizes - 3", 5" and 8" and make a great gift any time of year!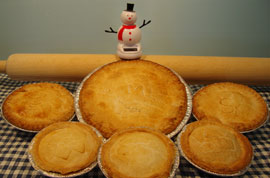 Ground Beef
Ground beef is a tasty combination of ground beef, minced onions and gravy. The 8" size can also be used as a tourtiere for your holiday celebration.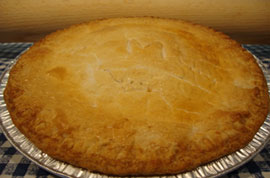 Chicken
Chicken is a delicious combination of chunks of chicken and savoury broth. The broth has five different herbs and spices to bring out the full flavour of the chicken.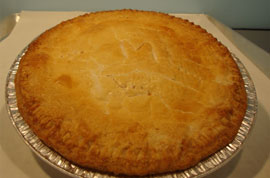 Chicken & Vegetable
Chicken & Vegetable is a great mixture of peas, carrots, corn and beans nestled between chunks of chicken and smothered in broth. Chicken & Vegetable is only available in the 5" and 8" size. There just isn't enough room to fit all of that in a 3" pie!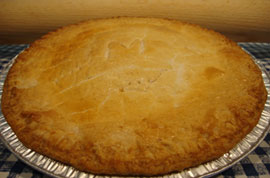 Steak
Steak pies are made for people who just want meat. It contains melt in your mouth chunks of steak covered in beef gravy.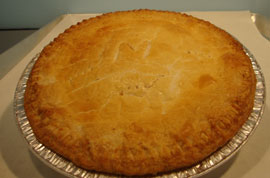 Steak & Mushroom
Steak & Mushroom pies are filled to the brim with hardy chunks of steak & mushrooms and covered with a generous serving of beef gravy. The mushrooms come in fresh from a local mushroom farm and are immediately sauteed to seal in the freshness.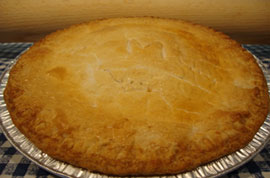 Steak & Kidney
Kidney lovers will enjoy this combination of hardy chunks of steak and our specially prepared chunks of kidney smothered in gravy.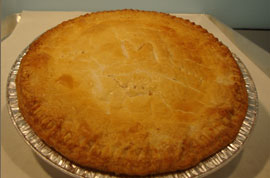 Steak & Onion
Steak & Onion pies contain chunks of steak & sweet Spanish onions which are slightly sauteed to bring out every ounce of flavour. Onion lovers rejoice! Steak & Onion are only available in the 5" and 8" sizes.